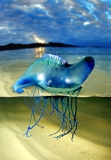 PHOTOGRAPHER
Justin Gilligan
CATEGORY
Wide Angle Unrestricted
1st Place
4th ANNUAL WETPIXEL & DIVEPHOTOGUIDE INTERNATIONAL UNDERWATER PHOTO & VIDEO COMPETITION

IN ASSOCIATION WITH OUR WORLD UNDERWATER
WINNERS HAVE BEEN ANNOUNCED!
DivePhotoGuide.com and Wetpixel.com are proud to announce the winners of their 4th annual underwater photography & video competition in association with Our World Underwater. The competition is part of a joint series often referred to as the "Super Bowl" of international underwater imagery competitions, with world-class prizes, esteemed celebrity judges, significant media support, and the opportunity to have your images showcased to the world as some of the planet's best.
The competition is truly an international event. Entries were received from all corners of the globe. Winners alone represented 22 countries. We want to congratulate all the competitors for the high quality level of the images submitted. It was a tough competition to judge. A formal statement from the judges can be found here. Congratulations to the winners!
Photographers & videographers competed in eight still-image categories and two video categories, to win nearly $50,000 in prizes including premium dive travel, underwater photo/video and diving equipment and more! Dive packages to some of the top photo destinations in the world, including Socorro Islands, Wakatobi-Indonesia, Papua New Guinea, the Red Sea, Grand Cayman, the Solomon Islands and Vietnam. Other prizes including camera housings and strobes, focus lights, dive equipment and other valuable items were awarded to the winners and announced during the film festival at the 39th annual Our World Underwater show in Chicago.

New this year was a Novice category, and we were very impressed with the entries. The competition also included a category for images focused on conservation and the marine environment, and one specifically for entries taken by compact digital cameras.
Esteemed judges included leading professional underwater photographers, cinematographers and magazine editors: David Doubilet, Dietmar Fuchs, Alex Mustard, and Cor Bosman comprised the judging panel for still categories and Steve Douglas, Ric Frazier, and Eric Hanauer for video categories.
Winning images will be published by supporting media partners worldwide, and Divefilm.com will be podcasting the winning videos as episodes of the iTunes-featured DiveFilm Podcast Video and DiveFilm High Definition Podcast Video.

As with all Wetpixel & DivePhotoGuide competitions, 15% of proceeds will be donated to marine conservation efforts.
Congratulations again to all of the winners from around the world!
(All images and a complete prize distribution list are below)